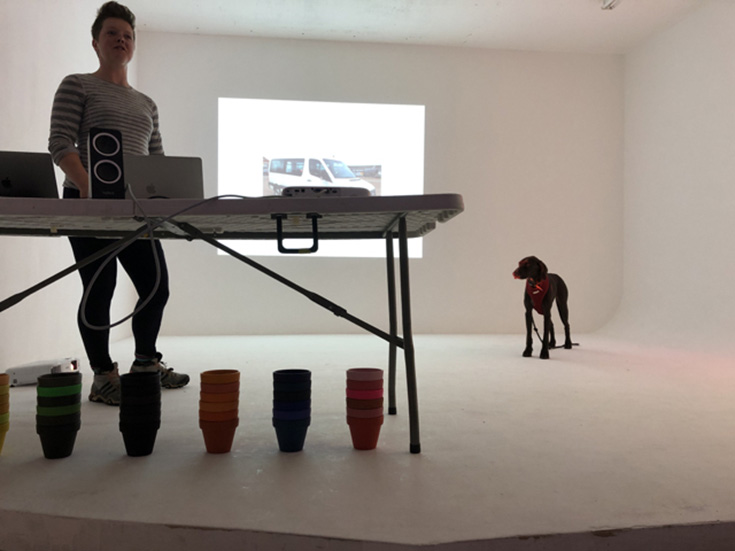 2018 – A Reflection
Before you glaze over, this is not going to be one of those end of year Christmas messages summarizing everything that's been happening in West World.   I haven't  sent more than a handful of Christmas cards over the last 20 years, let alone a family-related epistle charting accomplishments, shed improvements and holidays so trust me, you're in safe hands.
However,  at the 'Rewind' salon with Cityscapes last week it was good to hear what others had been up to, what has inspired them over the last twelve months and what paths they are looking to explore as a result.  For my part, I shared thoughts about some current projects including a new Maggie's Centre in Cardiff and the garden for Christ Church CE Primary School (which, by the way, thanks to some great crowd-funding, has just reached its target – thank you everyone who donated!).  I avoided vegan-related thoughts as Darryl Moore of Cityscapes had already touched on this in his observations about how our understanding of plants (and their importance) is evolving.  He also mentioned an idea for a vegan-inspired garden at the Chelsea Flower Show and the first Vegan Garden Festival at Hortus Loci which I reported on in my last post.
In hindsight, I should have mentioned the lack of engagement with plant-based and climate change issues from two of the biggest institutions in the plant and gardening world, The Royal Botanic Gardens, Kew (RGB Kew) and The Royal Horticultural Society (RHS).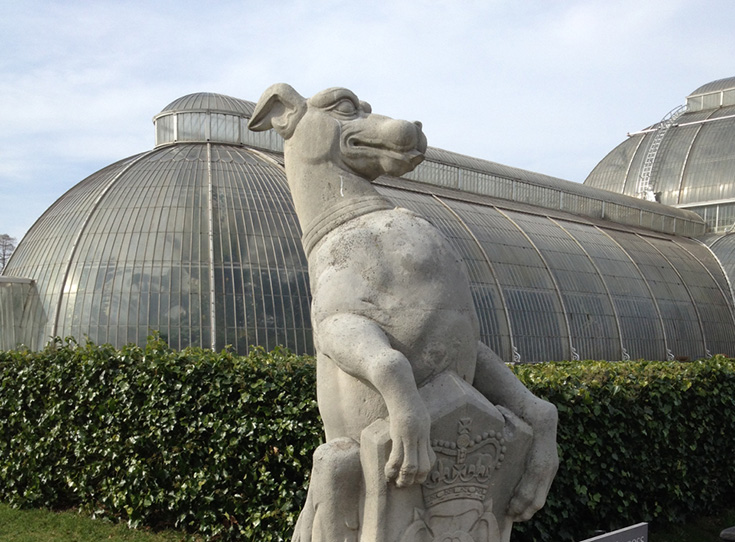 What with a United Nations (UN) report suggesting that a global shift towards a vegan diet  is vital to offset the worst impacts of climate change and the World Health Organisation (WHO) recommending a diet originating mainly from plants, it's odd that both RGB Kew and the RHS remain so silent on the matter.  I know it's a sensitive subject for some but any endorsement of their shared USP (i.e. plants) should be reason enough to be shouting this from the rooftops.
To be fair, I should point out that both are aware of climate change and the associated environmental implications.  A statement on the RHS website acknowledges that  "Climate change is likely to be one of the defining challenges of the 21st century and how we respond will not only determine our future prosperity, health and wellbeing, but also the sustainability of Earth's natural environment."  The RHS should also be commended for their decision to allow Joseph Gibson's show garden, 'Conscious Consumerism' (highlighting the fact that the meat industry is responsible for up to 91% of Amazon destruction) to be built at the Hampton Court Flower Show earlier this year.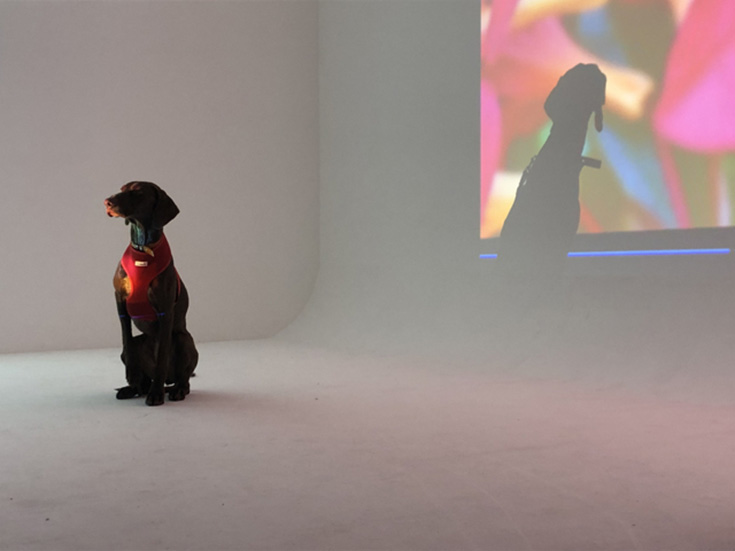 The tendency though is to concentrate mostly on informing members on how to deal with (or even exploit) the expected changes rather than how to reduce consumption of the things that are causing it in the first place.  Encouraging people to cut back on their consumption of fossil fuel and meat to offset climate change might confuse their overriding mission statement ("The encouragement and improvement of the science, art and practice of horticulture in all its branches.") but if things are as critical as UN scientists say then paying lip-service to a plant-based lifestyle by allowing a show garden and a couple of vegan food outlets at a horticultural event clearly isn't enough.
At RGB Kew, the lack of vegan options at their catering outlets and their limp response to one of two letters I sent in 2016 is frustrating to say the least.  Two years later I hear from other vegans that little has changed. In a way, RGB Kew's unwillingness to engage on the matter is more disappointing.   Their mission states: "We want a world where plants and fungi are understood, valued and conserved – because our lives depend on them.  RGB Kew's mission is to be a global resource for plant and fungal knowledge, building an understanding of the world's plants and fungi upon which all our lives depend."
With the current scale of species extinction (over 130 plant, insect and animal species lost each day due to deforestation caused by animal agriculture) it's hard to imagine a more alarming statistic and what else might be needed to make people address the elephant in the room: meat consumption.  Thankfully, outside the comfort zone of the garden, some people are speaking up.
Environmental activists inspired by Extinction Rebellion commit acts of peaceful, civil disobedience blocking roads, bridges and buildings to raise awareness of the impending climate disaster.  Vegans (who have watched Cowspiracy) have been banging on about it for years and one of Kew's most celebrated and respected neighbours, David Attenborough, represented the people of the world at the recent UN climate summit in Poland.  His address to the delegates should sound alarm bells from the quiet corridors of the Herbarium to the top of the recently restored Pagoda: 'If we don't take action the collapse of our civilisations and the extinction of much of the natural world is on the horizon.'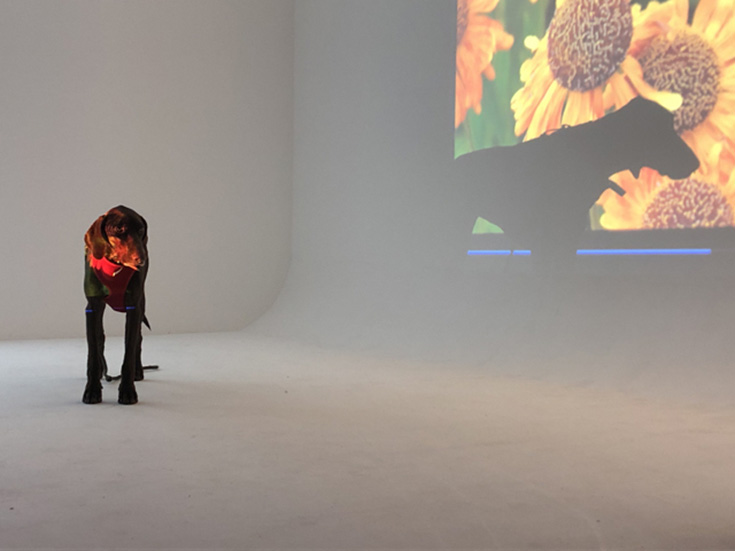 Of course, it's great to learn from the RHS about how to grow food locally, encourage wildlife, build a green roof, deal with the effects of flooding or make a rain garden.  It's also good to know that RGB Kew has the world's most diverse global herbarium and fungarium and that, together with their Sussex botanic garden, Wakehurst Place, their wild plant seed bank is being curated and conserved for the advancement of science and the benefit of the human race. But  until one or the other (ideally both) start advocating for a shift away from the consumption of animals to the consumption of plants, and educating their members about the reasons why, their stewardship has to be questioned.  By ignoring the elephant in the room they are letting down not only their members and the Earth that sustains them, but also future generations of all sentient beings left to reap nothing but the shriveled, ghostly husks of seeds we failed to sow.
Recipe of the Day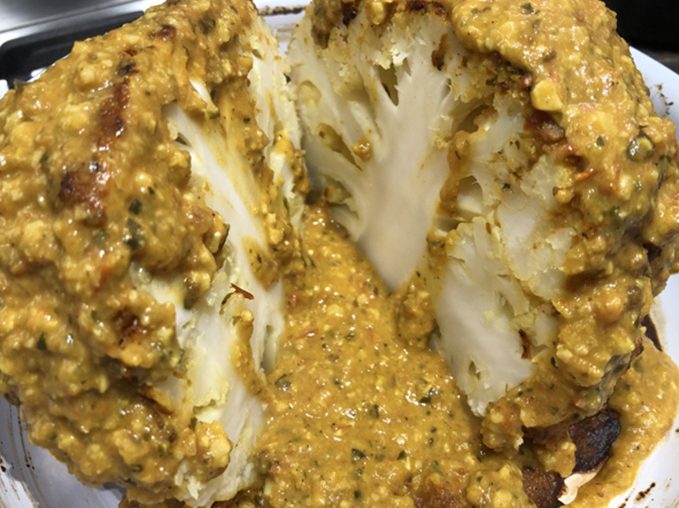 Gobi Musallam – Whole Roast Cauliflower in Creamy Makhani Sauce
Excuse the hasty photo but I made this from Vegan Richa's book Indian Kitchen.  It hit the spot but I might up the spice temperature next time.  As an accompaniment  I cobbled together fenugreek-laced chapatis, the recipe for which  I'll post another time.