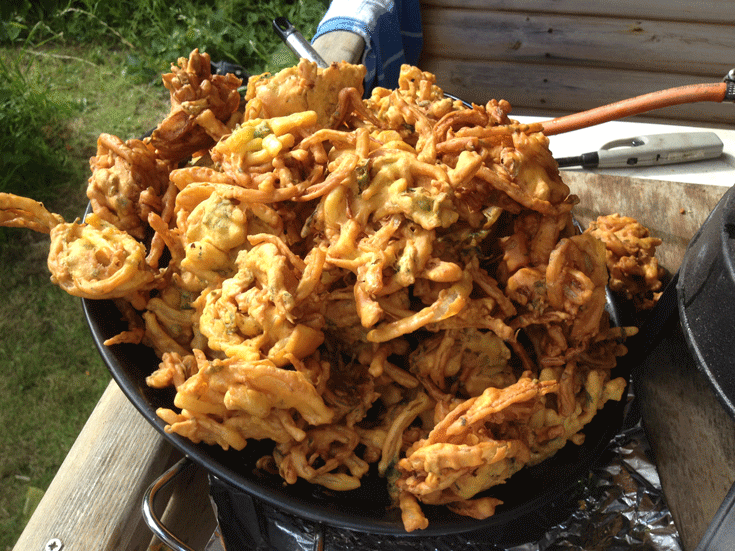 8848 or rather ATE 848
News & Events
Bushy Park Allotments Open Day this coming Saturday, May 9th, will be raising money for victims of the Nepal earthquake which has devastated so many lives. Our fund raising campaign is focussed around the number 8848, the height in meters of Mount Everest.
Those taking part are interpreting 8848 in their own way. For instance, pupils at Greenford school in Dorset are attempting 8848 star jumps, you might want to do a sponsored run, dance, cycle or swim for 8848 seconds (that's 2 hours and 27.46 minutes all told) or you might try and think of 8848 excuses why you shouldn't support Brentford FC (ok that's impossible but you get my drift).
I thought I'd cook onion bhajis, something that has become a bit of a tradition at our open days. Frying 8848 bhajis in one session would take too long and frying for 8848 seconds didn't seem much of a challenge. I've decided to cook 848 bhajis so that, come the end of the day we can say we ATE 848 bhajis and raised money for the earthquake victims in Nepal. Do come and join us.
The open day is from 12-3pm.
There will also be plants (mostly seedlings raised by potholders), pizza and plenty of tea and cake.
Location
Bushy Park Allotment is located just north of Hampton Swimming Pool, Hampton, TW12 2ST.
There are two entrances, one at the traffic lights where the Uxbridge Road (A312) meets the High Street (A311) and one next door to the swimming pool.
Parking
There is no vehicular access but there is plenty of parking in the High Street. Please park considerately in residential roads.