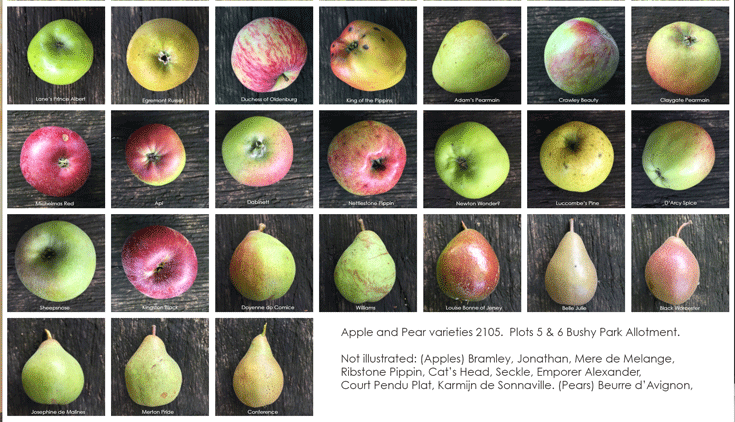 Stairs
Scrapbook
I knew we'd been overdoing it a little on the fruit front. A rushed visit to the allotment this morning shows that we have 24 varieties of apples and nine types of pear.
This swatch shows the ones that have borne fruit this year.
I think one or two might be mis-named as I put it together rather hastily this morning hence the question marks.
Labelling would be useful I suppose but it's never been my strongpoint.
Row 1: Lane's Prince Albert, Egremont Russet, Duchess of Oldenburg, King of the Pippins, Adam's Pearmain, Crawley Beauty, Claygate Permain(?).
Row 2: Michaelmas Red, Api, Dabinet(?), Nettlestone Pippin, Newton Wonder(?), Luccombe's Pine, D'Arcy Spice.
Row 3: Sheepsnose(?) Kingston Black, Doyenne du Comice, Williams, Louise Bonne of Jersey, Belle Julie, Black Worcester.
Row 4: Josephine de Malines, Merton Pride, Conference
Not illustrated: (Apples) Bramley, Jonathan, Mere de Melange, Ribstone Pippin, Cat's Head, Seckle, Emporer Alexander, Court Pendu Plat, Karmijn de Sonnaville. (Pears) Beurre d'Avignon.